Angel City Chorale is back with "As Seen on TV...And More!", June 21st and 22nd. Don't miss this special showcase for the many talents of the world-famous group, under the spirited baton of Artistic Director, Sue Fink. The centerpiece will be encore performances of songs that took ACC all the way to the Semi Finals on NBC's America's Got Talent.
The evening will include music in celebration of the Game of Thrones finale and a memorable medley of classic TV theme songs. For gaming fans, get ready for stirring renditions of Liberi Fatali (from Final Fantasy VIII) and Sogno di Volare (from Civilization VI), which Angel City Chorale had the honor of recording for the game itself. To round out the concert, you'll be treated to world music (Rauði riddarinn from Iceland), gospel (So Good), a glorious contemporary classical piece (Let My Love be Heard) by rising young composer Jake Runestad, and so much more. And, we are welcoming the return of our special guests, the Angel City Youth Chorale!
You've seen them on TV, now witness in person the dynamic and diverse singing sensation critics and audiences alike have embraced as "an important voice of unity and diversity." Join Angel City Chorale at our new venue, Barnum Hall, on the campus of Santa Monica High School. This historic theater has state-of-the-art staging, lighting and sound, ample parking and over 1,200 plush seats for your comfort and enjoyment of this can't-miss event!
Friday, June 21 and Saturday, June 22, 2019, 8 pm.
Please choose the date below to purchase tickets.
Note: Online ticket sales close at noon PDT the day of each show.
Barnum Hall
600 Olympic Blvd, Santa Monica, CA 90405
Map & directions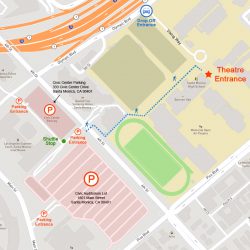 Parking: Parking is available for a nominal fee in the city parking structure located at 333 Civic Center Dr. or at the Civic Auditorium outdoor parking lot at 1801 Main St., Santa Monica. A FREE shuttle bus is provided to transport you to and from the theater. Please see the map for the location of the shuttle stop. A prominent sign and shuttle employee will be there to assist you. Shuttle service is from 6:30pm to 11:30pm.
A "Drop Off" area is available next to the theater for those who are disabled and needing assistance. Please enter at the security gate located at Olympic Blvd and Viking Way and proceed to the roundabout for immediate drop off. Cars must be moved immediately following the drop off. No exceptions. Please see the map for details.
There are a limited number of ADA spaces available on campus on a first-come, first-served basis. Please enter at the security gate located at Olympic Blvd and Viking Way and present your placard to security. Once this lot is filled, please proceed to the city parking lots and take the FREE shuttle to the theater.

Please note when selecting seats:
There is no elevator to the mezzanine and balcony -- these sections are only accessible by stairs.
During the checkout process, if you wish to choose your own seats, you must first deselect the pre-selected seats, then select the ones you want.
Problems with ticket sales? Call Brown Paper Tickets at 1-800-838-3006. For general inquiries, please email buytix@angelcitychorale.org.
Brown Paper Tickets Ticket Widget Loading...
Click Here to visit the Brown Paper Tickets event page.