ABOUT THE ARTIST:
Regine Verougstraete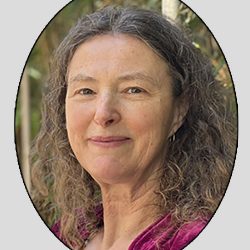 is a Belgium-born artist who consciously began using her art as a self-healing tool in 1986. Journaling with images and performing symbolic self-healing rituals became an integral part of her life and her work. Regine's professional artwork, shown in galleries and museums in Europe and the United States is a small representation of the body of her work. The raw, sometimes painful and vulnerable, sometimes wild and unedited part of her artistic production, she kept to herself for many years. Becoming a Brennan Healing Science practitioner in 2010 gave her the opportunity to consciously integrate her two passions: healing and art. She brings 30 years of hands on, heart-filled experience in the field of Intuitive Healing art.
ABOUT THE SONG "BIG"
The song, "Big," was written by ACC founder and Artistic Director, Sue Fink and former ACC member Rick Krizman and animated by Regine Verougsrtaete.  "Big" was originally written in 2009 in response to the homeless problem and included in ACC's CD "The Road Home." The lyrics expressed in "Big" are as prevalent now, if not more so, than they were in 2009. ACC's commitment to Playing It Forward in this critical time in history is not only expressed in the songs we perform and  our community outreach projects but also in promoting and sharing the arts locally, nationally and internationally.  
"BIG" LYRICS:
Big as wide as Kansas, tall as the Rockies, long as the Mighty Mo
and there's a place for every heart and hope and room to let the spirit roam.
And in this great expanse we all deserve a chance to hang onto a place, home.
Dreams as old as rivers, rich as our soil, strong as the farmer's hand
that scatters seed across our promised land.
Yet some get lost before they're sown.
A shadow on the heart of one can block the sun, 'til every hope has found a home.
Above a cardboard box and baby's cry, a mother's prayer is lifted high.
The listening moon so brightly shown to light us as we guide her home.