Join us for a spectacular concert, 30 years in the making — 30 Rocks! Celebrating the Best of 3 Decades, at UCLA's Royce Hall in Los Angeles on Saturday, June 10th at 7pm PDT AND Sunday, June 11th @ 3pm PDT + Livestream. To commemorate our 30th Anniversary, we will perform some of our greatest and most popular hits. Relive ACC's unforgettable run on AGT with the rousing This Is Me, the golden-buzzer winning Baba Yetu, and our viral blockbuster, Africa. Also included in the line-up are the swinging Brazilian number Samba Do Avião and the stirring theme from the video game Civilization VI, Sogno di Volare. We will also be joined by the Angel City Youth Chorale, alumni from past seasons, and so much more! If you've never seen us live before, this is a MUST SEE!
CAN'T MAKE IT IN PERSON? LIVESTREAM available starting Sunday, June 11th @ 3pm PDT for a minimum of $10. WATCH AND PURCHASE LIVESTREAM RECORDING at your convenience UNTIL JULY 31ST!
Please double check that you are on the UCLA website available through angelcitychorale.org or ucla.evenue.net. Other ticket websites may not be authorized.
Sat., June 10, 7pm PDT Concert
Sun., June 11, 3pm PDT Matinee Concert + Livestream
If you've been given a code, click the button below and enter that code.
For additional ticketing help, you can also call the Royce Hall Box Office Monday-Friday, 10am-4pm at (310) 825-2101, or email buytix@angelcitychorale.org
We did it! The holidays have officially begun. Thanks to all of you who made it to our live performances last weekend, or who joined us for the livestream.
But it's not too late -- you can still watch the livestream until Jan 8 and it's the next-best thing to being there in person. Check it out and get in the spirit of the holidays. Plus, it's FREE! (Although donations are certainly appreciated.)
Ticket Buying Details
Once you add any seats to your cart, a 10-minute timer starts. You must complete the purchase before the timer runs out.
If you want to order seats for both shows, you'll find a Related Events scroller on the Checkout screen and can add more tickets to your transaction -- just be mindful of the countdown timer. Pre-paid parking is a separate transaction.
A UCLA ticketing account is required to complete the transaction. You can create a new one at checkout, but note that if you've ever attended a UCLA event, you might already have an account. If you're concerned about time, once you're in the UCLA ticketing screens, the My Account link will let you sign in or use Forgot Password to get signed in before you add tickets to your cart.
Click the graphic below to load a larger version.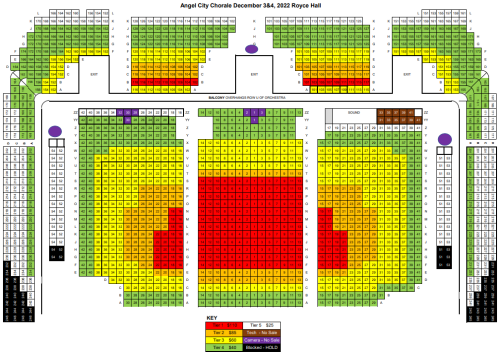 Worldwide Livestream
For those not able to attend in person, Angel City Chorale will be livestreaming the concert on Sunday, December 4th. RSVP below and enjoy the concert in real time from anywhere in the world. When you RSVP, you'll get reminders before the event goes live.
Masks Strongly Recommended.
Royce Hall strongly recommends that all guests be fully vaccinated or receive a negative COVID-19 test prior to attending any event.
If you are experiencing any symptoms of COVID-19, please do not come to campus. If you have any questions, please call (310) 267-4465 or email info@roycehall.org.

Know Before You Go
TICKETS AND PROGRAM
Your tickets for live performances of 30 Rocks! Celebrating the Best of 3 Decades presented by
the Angel City Chorale at Royce Hall will arrive via email from the UCLA Central Ticket Office at
cto@tickets.ucla.edu.
The Royce Hall Box Office and Lobby doors open one hour before the performance.
Approximate running time (subject to change): 1.5 hours, no intermission.
POST-CONCERT GATHERING
Please join the choir for a post-concert gathering for one hour following the performance in the West Lobby
and Terrace. Light refreshments will be available for purchase from Royce Hall. Mingle with family and
friends and take a photo in front of the step and repeat backdrop.
HEALTH AND SAFETY INFORMATION
Masking is strongly recommended. 
Royce Hall strongly recommends that all guests be fully vaccinated or receive a negative COVID-19 test
prior to attending any event.
If you are experiencing any symptoms of COVID-19 do not come to campus.
For questions please call 310-267-4465 or email info@roycehall.org
DIRECTIONS & PARKING
Royce Hall is located at 340 Royce Drive, Los Angeles, CA 90095. 
Theater parking is available in Parking Structure #5. From Sunset, turn south on Royce Drive, proceed
through the 2 stop signs to access level 1-2-3.
Handicapped Accessible parking spaces are located on Level 4 of Structure 5. At the 2nd  stop sign veer to
the right to access Level 4. Wheelchair assistance is available on Level 4 beginning at 90 minutes to show.
For any accessibility accommodations please do not hesitate to reach out to the House Manager at 310-
267-4465.
Rideshare / Guest drop off is located at the flagpole at Dickson Court (10745 Dickson Court, LA, CA 90095)
Some rideshare companies use the 340 Royce Drive address, this address will take you to the back of
Royce Hall and to the lower lot. If you get dropped off here, please head south and up the stairs to the front
of Royce Hall.
How to purchase a parking pass: 
Purchase your parking ahead of time – click here.
Buy your parking permit at the payment kiosk located in Structure 5 on level 6 (top level) or level 4
right before you cross the pedestrian bridge. Kiosk information available here.
Install the ParkMobile app on your phone and purchase your parking on the day of the event from
your smartphone – Royce Hall code 2552 (2500 ADA) – ParkMobile information available here.
QUESTIONS
Ticketing questions – please contact – UCLA Central Ticket Office at 310-825-2101, or email buytix@angelcitychorale.org
Accessibility Accommodations – please contact – Royce Hall House Manager – 310-267-
4465, james.porter@arts.ucla.edu
For all other questions please email info@roycehall.org