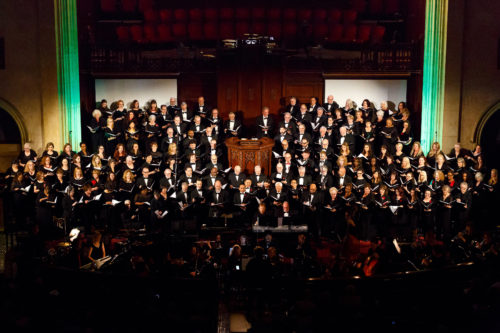 Angel City Chorale (ACC) reflects the spirit and diversity of Los Angeles in its membership, its music, and its outreach activities.   Equally committed to good music and good deeds, ACC is dedicated to "Building Community One Song at a Time."  Renowned Artistic Director Sue Fink founded Angel City Chorale at the world-famous McCabe's Guitar Shop in 1993 with 18 singers; ACC has now grown to over 160 talented and dedicated singers who are admitted by audition.  ACC presents a broad and eclectic repertoire at exuberant, standing-room-only concerts.  The group's mastery of a wide range of musical genres – including classical, gospel, jazz, pop and world music – has become its hallmark.
MAKING MUSIC
Angel City Chorale was honored to have been invited to participate in the Mahler Project, an extraordinary undertaking in which Gustavo Dudamel conducted each of Gustav Mahler's nine completed symphonies over the course of 5 weeks. ACC joined the Los Angeles Philharmonic, the Simón Bolivar Symphony Orchestra of Venezuela, and choirs from across the Southland in a performance of Mahler's Symphony No. 8, "The Symphony of a Thousand," on February 4, 2012 at the Shrine Auditorium. The project celebrated the 100th anniversary of Mahler's death.
ACC has performed at venues throughout Los Angeles, including the Walt Disney Concert Hall, the Dorothy Chandler Pavilion, the Kodak Theater, and the Nokia Theater at LA Live.  The choir has appeared on national and local television, and worked with artists such as Stevie Wonder, Mary Chapin Carpenter, Luther Vandross, and Natasha Bedingfeld.  A sampling of ACC's work can be found on the group's commercially released CDs:   The Road Home, A Chanukah Celebration, Gift of the Angels, and Why Walk When You Can Fly. Angel City Chorale was also prominently featured on Christopher Tin's The Drop That Contained the Sea.
ACC has also taken its music and outreach program to international audiences.  The choir traveled to Cape Town, South Africa in August 2011 to perform concerts benefiting the Amy Biehl Foundation, an organization working to bring sports, arts, music, and education programs to the children of South Africa's townships.  The culmination of the trip was a concert at the Cape Town International Convention Centre in which ACC was joined on stage by fifty children from township schools that the foundation supports.
BUILDING COMMUNITY
ACC is proudest of its ongoing commitment to the Los Angeles community. Through the gift of song, donations, and volunteerism, ACC supports several Los Angeles non-profit organizations serving those in the community who need it most. Central to ACC's mission is its annual Holiday Tour of Hope program. Over the past 15 years, ACC has taken its holiday concert repertoire directly to more than 30 service organizations in Los Angeles. In addition to the gift of music, ACC donates food, personal items, clothing, and supplies to these organizations.
ACC donates a significant share of the net proceeds of its recent CD, "The Road Home," to Ocean Park Community Center (OPCC), an organization serving homeless individuals, battered women and their children, and people living with mental illness.  In 2009 ACC partnered with the Los Angeles Regional Food Bank to provide both food and a portion of the proceeds from the Spring 2009 concert. From collecting linens and toiletries for social service agencies to hosting music seminars at inner-city schools, ACC is always looking for more ways to reach out to the community.
Angel City Chorale is a California Non-Profit Public Benefit Corporation and 501(c)(3) nonprofit organization. Your donations help us bring music to the community.