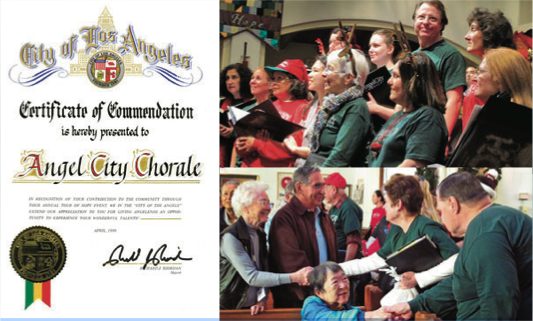 Angel City Chorale is committed to musical excellence and to giving back to our community. Our mission statement, "Building Community One Song at a Time," embodies our approach of blending the power of music to lift the human spirit with tangible support to our outreach partners.
Since 1997, we have visited over 30 organizations in Los Angeles on our annual Holiday Tour of Hope, bringing music to people in the community who don't have access to traditional venues where choral groups usually perform. These include soup kitchens, homeless shelters, nursing homes, hospitals, and sober living facilities. We share our holiday concert repertoire, invite our audiences to sing along, and enjoy the magic that a visit from Santa Claus brings to kids of all ages. We also donate personal items, supplies, and toys to these organizations.
In 2007, the Tour of Hope was expanded internationally to Ireland, where the choir performed benefit concerts for various charities. In 2011, ACC traveled to Cape Town, South Africa to perform concerts benefiting the Amy Biehl Foundation, an organization working to bring sports, arts, music, and education programs to the children of South Africa's townships.  The culmination of the trip was a concert at the Cape Town International Convention Centre in which ACC was joined on stage by fifty children from township schools that the foundation supports.
Regardless of its location, whether here in Los Angeles or half way around the world, Angel City Chorale continues to inspire, uplift and provide a sense of joy and hope.