Watch our America's Got Talent Audition
The word most commonly associated with Angel City Chorale is "JOY": the joy we experience in making beautiful music together, and the joy we aspire to bring to audiences at our exuberant live concerts, to the numerous organizations who receive our community outreach programs, as well as to our millions of online fans. That joy is a precious commodity that we do not take for granted; it is at the foundation of everything we do. We like to think of ourselves as a microcosm of our great home city of Los Angeles and of America as a whole – ordinary people from every walk of life working together to make something much better than the sum of our parts.
Artistic Director Sue Fink founded Angel City Chorale in 1993 in the world-famous McCabe's Guitar Shop with just 18 singers. We are now over 160 voices strong, with new members joining every year by audition. The supportive environment Sue has created accommodates singers with a wide range of musical training and experience to create a world-class choral sound.
Diversity is another hallmark of Angel City Chorale – in our singers, our audiences, and in the wide range of musical genres we perform. A typical ACC concert will include everything from classical pieces to pop, jazz, R&B, gospel, folk, Broadway and world music, and more than enough joy to go around. Come experience it for yourself!
I Bless the Rains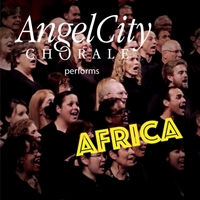 Enjoyed our performance of Africa? It's available through various online services. Or, browse our CDs and other downloads.