Now in its 29th year, Angel City Chorale is proud to represent the spirit and diversity of Los Angeles in its membership, its music, and its outreach activities, thereby fulfilling its mission of "Building Community One Song at a Time." This premier Southern California choral group is best known for its performances on NBC's America's Got Talent, making it all the way to the semi-finals. Hailed by Simon Cowell as "one of the best choirs we've ever had," the Chorale earned the coveted Golden Buzzer, touching nearly 20 million viewers with their rich sound and compelling message of unity and diversity.
Angel City Chorale is thrilled to introduce our upcoming spring concert, Roots: Singing Our Stories, a multimedia event that delves into the human experience of struggle and determination, sacrifice and hope, gratitude and love. With visual storytelling, animation, choreography, and of course the inspiring vocal performances you've come to expect from Angel City Chorale, Roots will explore these questions: Where did we come from? What roots us now? And where will we go from here?
Conducted by Artistic Director Sue Fink, the Chorale will perform a selection of songs that represents a broad cross-section of the cultural heritage of Chorale members, in seven languages from four continents, and accompanied by a full orchestra. We will also be joined by the Angel City Youth Chorale for a special performance. Roots is a bold undertaking that's sure to strike a chord with all who experience it. Afterward, we hope you'll remember the songs and the spectacular performances. But more importantly, we hope you'll remember the people and their stories, and all the things we have in common.
Sat., June 18, 7pm  Concert + Livestream
Sun., June 19, 3pm  Matinee Concert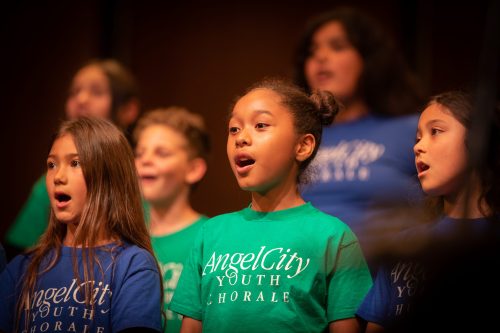 Interested in helping to develop the Angel City Youth Chorale program?  ACC has a unique opportunity for just the right college student.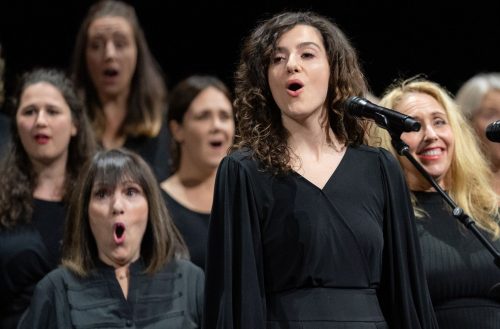 Are you looking for entertainment for your annual meeting or social event?  Angel City Chorale can offer the perfect group of singers, in small groups of 25, or up to our full size of 150.
"One of the most engaging and entertaining evenings of music."
— T-Bone Burnett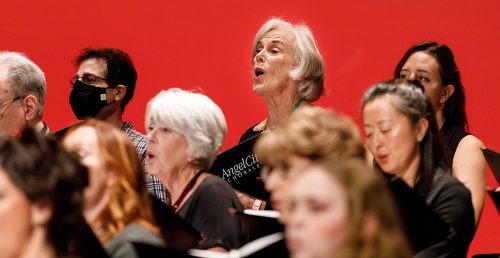 "...one of the best choirs we've ever had on this show."
— Simon Cowell
"As a choir, we exist to bring people together, to elevate the human spirit and celebrate our unity of spirit and diversity of expression. We may be separated by walls and distance, but not by heart – not from each other or from the beauty and diversity of the city we represent. We firmly believe that we will make it through this crisis, that we will come together again, sing together again and fly again."
- Sue Fink, Founder and Artistic Director
Angel City Chorale is proud to release a life-affirming music video to remind the people of Los Angeles and beyond – "We will fly again!"
In the face of the COVID-19 epidemic, we feel compelled to offer our conviction that, while it may seem we are all facing this crisis alone, we can still create extraordinary beauty together.
The 4-minute video features the chorale members pursuing their daily safer-at-home routines – ranging from home schooling and cooking to providing medical care – and pulls these disparate yearnings together for a moving expression of determination and resilience. The soundtrack is our live concert recording of Christopher Tin's "Sogno di Volare" (The Dream of Flight), a soaring expression of the indomitable human spirit. Tin's lyrics originate in the writings of Leonardo da Vinci about his own imaginings of flight.
Many thanks to Jill D'Agnenica for her artistic contributions to our SOGNO DI VOLARE video!
Thank you to the @CountyofLA Board of Supervisors for approving our #LACountyOGP award, and for supporting arts and culture in LA County!