ANGEL CITY CHORALE returns to historic Royce Hall on the UCLA campus for our The More The Merrier holiday concert:
Sat., Dec. 3, 7pm  Concert
Sun., Dec. 4, 3pm  Matinee Concert + Livestream
For those not able to attend in person, Angel City Chorale will be livestreaming the concert on Sunday, December 4th. RSVP below and enjoy the concert in real time from anywhere in the world. When you RSVP, you'll get reminders before the event goes live.
Accompanied by the ACC orchestra, Artistic Director Sue Fink leads the 150-voice ensemble in a selection of beautiful and celebratory numbers that are sure to bring joy to the heart of even the most diehard Grinch. Look for perennial favorites wrapped in shiny new arrangements, like the beloved Carol of the Bells, the English carol Wassail, and a stunning Native Peoples-inspired arrangement of The Huron Carol, as well as gospel renditions of Go Tell It on the Mountain and Hark! The Herald Angels Sing, and more. Chanukah celebrators will love the traditional Mi Y'malel and the hilarious and rousing Chanukah in Santa Monica. We promise to deliver more songs, more togetherness, more fun, more hope, and more joy with this fun-filled concert — The More The Merrier! And of course as always, we are thrilled to include our very own ANGEL CITY YOUTH CHORALE in the festivities.
We sincerely hope that you will be able to join us in person for one of the most beloved annual holiday traditions in Los Angeles. But for those of you who are unable to attend live, we will be livestreaming the concert on Sunday, December 4th.
Ticket Buying Details
Once you add any seats to your cart, a 10-minute timer starts. You must complete the purchase before the timer runs out.
If you want to order seats for both shows, you'll find a Related Events scroller on the Checkout screen and can add more tickets to your transaction -- just be mindful of the countdown timer. Pre-paid parking is a separate transaction.
A UCLA ticketing account is required to complete the transaction. You can create a new one at checkout, but note that if you've ever attended a UCLA event, you might already have an account. If you're concerned about time, once you're in the UCLA ticketing screens, the My Account link will let you sign in or use Forgot Password to get signed in before you add tickets to your cart.
Click the graphic below to load a larger version.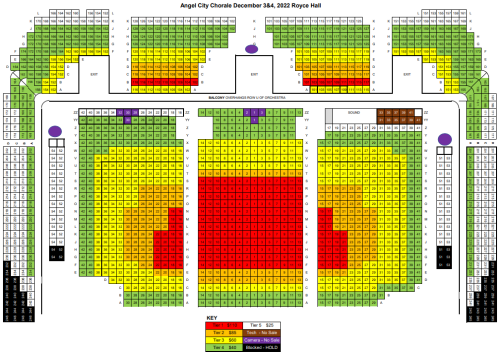 Now in its 29th year, Angel City Chorale is proud to represent the spirit and diversity of Los Angeles in its membership, its music, and its outreach activities, thereby fulfilling its mission of "Building Community One Song at a Time." This premier Southern California choral group is best known for its performances on NBC's America's Got Talent, making it all the way to the semi-finals. Hailed by Simon Cowell as "one of the best choirs we've ever had," the Chorale earned the coveted Golden Buzzer, touching nearly 20 million viewers with their rich sound and compelling message of unity and diversity.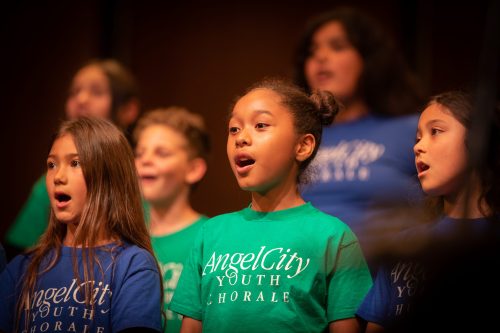 Interested in helping to develop the Angel City Youth Chorale program?  ACC has a unique opportunity for just the right college student.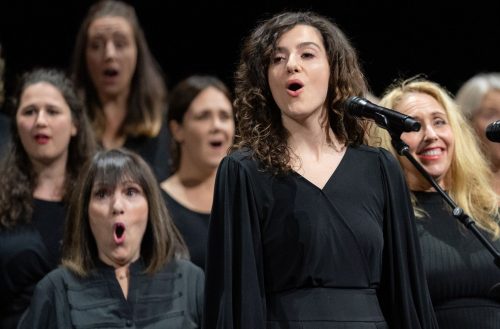 Are you looking for entertainment for your annual meeting or social event?  Angel City Chorale can offer the perfect group of singers, in small groups of 25, or up to our full size of 150.
"One of the most engaging and entertaining evenings of music."
— T-Bone Burnett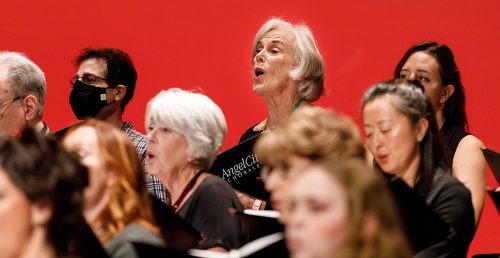 "...one of the best choirs we've ever had on this show."
— Simon Cowell
"As a choir, we exist to bring people together, to elevate the human spirit and celebrate our unity of spirit and diversity of expression. We may be separated by walls and distance, but not by heart – not from each other or from the beauty and diversity of the city we represent. We firmly believe that we will make it through this crisis, that we will come together again, sing together again and fly again."
- Sue Fink, Founder and Artistic Director
Angel City Chorale is proud to release a life-affirming music video to remind the people of Los Angeles and beyond – "We will fly again!"
In the face of the COVID-19 epidemic, we feel compelled to offer our conviction that, while it may seem we are all facing this crisis alone, we can still create extraordinary beauty together.
The 4-minute video features the chorale members pursuing their daily safer-at-home routines – ranging from home schooling and cooking to providing medical care – and pulls these disparate yearnings together for a moving expression of determination and resilience. The soundtrack is our live concert recording of Christopher Tin's "Sogno di Volare" (The Dream of Flight), a soaring expression of the indomitable human spirit. Tin's lyrics originate in the writings of Leonardo da Vinci about his own imaginings of flight.
Many thanks to Jill D'Agnenica for her artistic contributions to our SOGNO DI VOLARE video!