Building the Next Generation of Singers
Published April 19, 2023 7:12 AM
30 ROCKS! WITH ANGEL CITY YOUTH CHORALE
Join us for 30 Rocks! Celebrating the Best of 3 Decades at UCLA's Royce Hall on Saturday, June 10th @ 7pm AND Sunday, June 11th @ 3pm + Livestream. To commemorate our 30th Anniversary, ACC will be joined by the Angel City Youth Chorale (ACYC), alumni from past seasons, and so much more! Relive ACC's unforgettable run on America's Got Talent with the rousing This Is Me, the golden-buzzer winning Baba Yetu, and our viral blockbuster, Africa. If you've never seen us live before, this is a MUST SEE! Tickets from $25 - $99 for the live performance, with Livestream available for a $10 minimum donation.
Angel City Youth Chorale launched in 2019 through a partnership with the Boys and Girls Club (B&GC), and more than 125 children ages 6 to 14 have participated in 7 concerts since inception. Thank you to our wonderful staff for working to bring choral music to youth in the Los Angeles area.
Heather Catalena, Creative Director & Conductor
Annie Greskoviak, Administrative Director & Instructor
Gordon Glor, Accompanist & Instructor
Jahna Perricone, Instructor
Emily Sanders, Instructor
ACYC has partnered with additional communities to build our free music education program and expand our reach in the Los Angeles area.
ANGEL CITY CHORALE ROCKS FIRST SCHOLARSHIP PROGRAM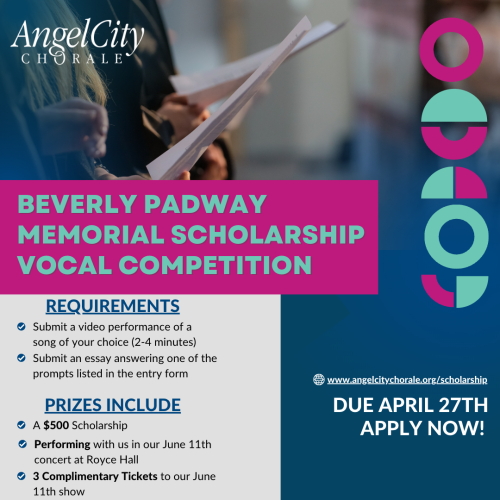 We are proud to announce the Beverly Padway Memorial Scholarship Vocal Competition! Graduating high school seniors and 1st/2nd year college students with a focus in music are eligible to apply. Two winners will be selected and announced in early May and will be presented during our spring concert, 30 Rocks!
These scholarships are made possible by a generous legacy gift from Beverly Padway, a 25-year member of Angel City Chorale. She was an educator and lover of all genres of music, especially choral music. We are honored to name this scholarship in her memory.
YOUTH CHORAL PROGRAMS ROCK!
Recently, Chorus America published a study about the benefits of Youth Choral Programs! Here are our top 5 from that list:
Choir is FUN and an activity a young person can continue for their entire life!
Children's choirs help young people embrace diversity and inclusion through exposure to different types of people and singing music from many different cultures.
80% of educators reported that choir students were better participants in groups, had developed stronger social skills, and improved emotional expression and management.
Choir helps develop qualities conducive to learning and development: memory, comprehension, time management and more.
Children's choirs provide a safe and loving environment with a community of singers, creating memories to last a lifetime!
IN CASE YOU MISSED IT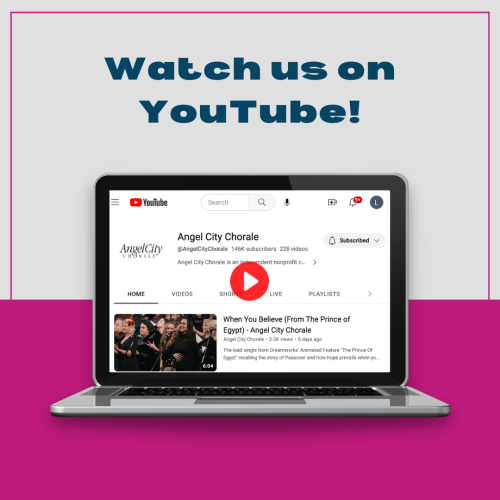 Ahead of ACYC's performance in 30 Rocks!, check out their performance of Rise Up Together - Ubuntu from our 2021 virtual concert.
Recently, ACC premiered our performance of When You Believe from the Dreamworks animated feature "The Prince of Egypt." Watch now on our YouTube Channel!
Please consider making a tax-deductible donation to Angel City Chorale.