We believe that music has the power to bring people together, regardless of age, gender, political orientation, sexual orientation, or ethnic or economic background. We also believe that communities make the world more livable, safe, healthy, and happy. Angel City Chorale has been doing exactly that for over 25 years.
Your single donation supports inclusive, livable, safe, healthy, and happy communities. Your gift enables us to build communities and to bring people together through the power of music.
Your generous gift makes it possible for the Angel City Chorale to unite the world through music, to perform for communities that are far away and close to home, to purchase, commission, and arrange music, to rent rehearsal and performance spaces, and to produce our inspiring concerts that build communities. Your donations also help us expand important community-building projects such as our Tour of Hope Outreach Program.
We need strong communities now more than ever, and this is your chance to contribute. Angel City Chorale is committed to making a difference, and since your donations are tax deductible, we invite you to join us now to help make that difference by donating today.
If you have any questions, please call us at (310) 943-9231, or email us at GuardianAngel@angelcitychorale.org. We would be delighted to talk with you about your interest in supporting the Arts through choral music!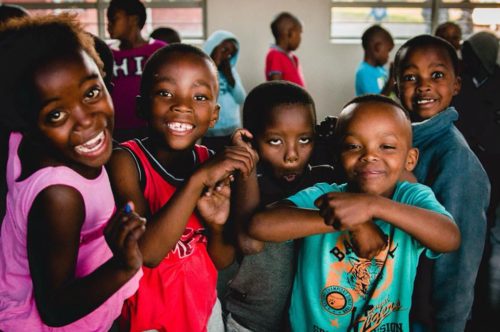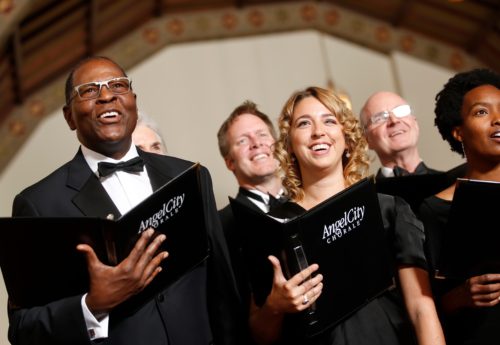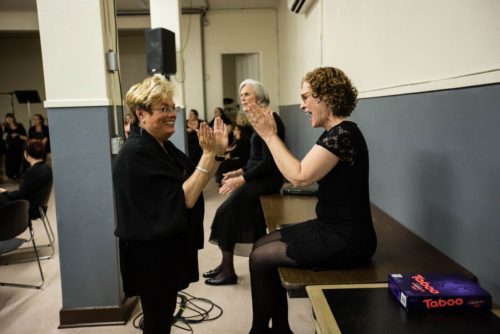 Donate
Angel City Chorale ("ACC") Guardian Angels are donors who are helping to transform our community with their gifts. These contributions provide essential revenue to enhance our moving performances, to sustain our community projects, and to enable Artistic Director Sue Fink's creative vision.
In return for vital support, Guardian Angels receive exclusive membership benefits outlined below to enhance your ACC experience and bring you closer to the music.
Your support makes possible:
Inspiring performances
Newly premiered choral works
Community outreach activities
Please select your sponsorship level:
Dolce
$50-$249
Thank you in the concert program for 2 programs (4 shows)
Allegro
$500+
2 VIP concert tickets
Thank you in concert program for 2 programs (4 shows)
1 ACC CD
Crescendo
$250+
Thank you in concert program for 2 programs (4 shows)
2 general seating tickets*
Fortissimo
$1000+
Featured presence on ACC website and Social Media pages
2 invitations to reception for spring and holiday concert series
4 Premium VIP tickets to be used for Saturday or Sunday spring or holiday concerts*
CD and DVD gift basket
Thank you in concert program for 2 programs (4 shows)
Help us bring even more of the world together
Maestoso $100,000+
All Prestissimo level recognitions, plus:
"Brought to you by" sponsor acknowledgment on screen before concert
Prestissimo $50,000+
All Presto level recognitions, plus:
Featured presence on ACC website and Social Media pages
Presto                   $10,000+
Private meet and greet with creative director Sue Fink and board President
4 invitations to reception for spring and holiday concert series
8 Premium VIP tickets to be used for Saturday or Sunday spring or holiday concerts and up to 20 general tickets for spring or holiday concerts.
CD and DVD gift basket
Framed poster signed by Sue Fink
Full page ad in concert program for spring and holiday concert series
Allegro Vivace               $5,000 +
Featured presence on ACC website and Social Media pages
Private meet and greet with creative director Sue Fink and board President
4 invitations to reception for spring and holiday concert series
8 Premium VIP tickets to be used for Saturday or Sunday spring or holiday concerts and up to 10 general tickets for spring or holiday concerts.
CD and DVD gift basket
Framed poster signed by Sue Fink
Full page ad in concert program for spring and holiday concert series
Vivace               $2,500 +
Featured presence on ACC website and Social Media pages
Private meet and greet with creative director Sue Fink and board President
4 invitations to reception for spring and holiday concert series
4 Premium VIP tickets to be used for Saturday or Sunday spring or holiday concerts
CD and DVD gift basket
Framed poster signed by Sue Fink
Half-page ad in concert program for 2 programs (4 shows)