Happy Birthday Angel City Chorale! 30 Never Looked So Good!
Published March 31, 2023 4:12 PM
ACC TURNS 30!
Since 1993, Angel City Chorale has performed 500+ songs in 20 languages in more than 250 concerts throughout the world. We are proud to represent the spirit and diversity of Los Angeles in our membership, music, and outreach activities fulfilling our motto of "Building Community One Song at a Time."
"It's been a joyous 30 years - I never would have imagined what Angel City Chorale would become when I started this community choir at McCabe's Guitar Shop so many years ago. We can't wait to celebrate this momentous anniversary – we've had some amazing adventures which have taken us around the world, made us a viral sensation and given us a national stage." ~ Sue Fink, Founder and Artistic Director
SAVE THE DATE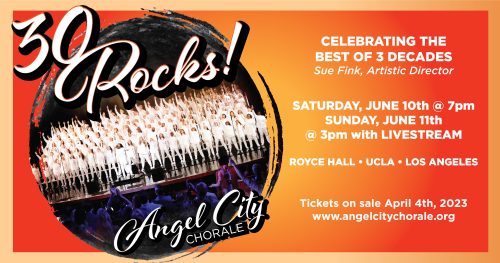 Our spring concert, 30 Rocks! Celebrating the Best of 3 Decades, is just around the corner! To commemorate our 30th anniversary, we're gearing up for our most exciting concert yet at UCLA's Royce Hall on Saturday, June 10th @ 7pm AND Sunday, June 11th @ 3pm + Livestream. We are so thrilled to honor this milestone by performing some of our GREATEST HITS, including This is Me, Baba Yetu, and our blockbuster Africa.
TICKETS ON SALE TUESDAY 4/4/23 @ 10AM.
 Check out the full details 
HERE
.
ACC REUNION
Calling all Alumni! We've missed you! This year it's homecoming season, and we want YOU to join us on stage to close out our spring concert in June with The Freedom Medley, Bye and Bye, and Africa.
We have a fantastic brunch, a jam session, and other activities planned for the concert weekend. From near or far, it's the perfect time to come celebrate 30 magnificent years by bringing the ACC family back together to BLOW THE ROOF OFF!
To learn more, contact Mariann Santora (Alto since 2006) at reunion@angelcitychorale.org
ITALY TOUR
We're dusting off our passports and heading to Italy June 21st - July 1st!
Ci Vediamo Italia! Our first performance will be a benefit concert in Treviso for La Musica di Angela to raise funds to provide music therapy to critically ill children and Alzheimer's patients, and to promote music therapy education and innovation in collaboration with Padova's School of Music Therapy. We'll also be performing with the Joy Singers of Venice and participate in the Fiesole Music Festival in Florence.
Stay up to date and follow Angel City Chorale Fans-Italia on Facebook!
IN CASE YOU MISSED IT
In recognition of Black History Month in February, we premiered our Roots concert video of Stand Up, written by Cynthia Erivo and Joshuah Brian Campbell, from the award-winning biopic Harriet.
With every note, the music and lyrics of the song evoke the pain experienced by enslaved Black people and Harriet Tubman's determination to escape to freedom. Our production includes expressive staging and movement from our resident choreographer, Billy Rugh, and depicts Harriet, allied abolitionists, and the journey she and others took to escape the tyranny of enslavement.
Watch the full performance on our YouTube Channel.
You can now include Angel City Chorale in your estate planning, stock options, and monthly giving to help sustain us throughout the year. For more information about these programs, please contact Stacy Blair Young at guardianangel@angelcitychorale.org.