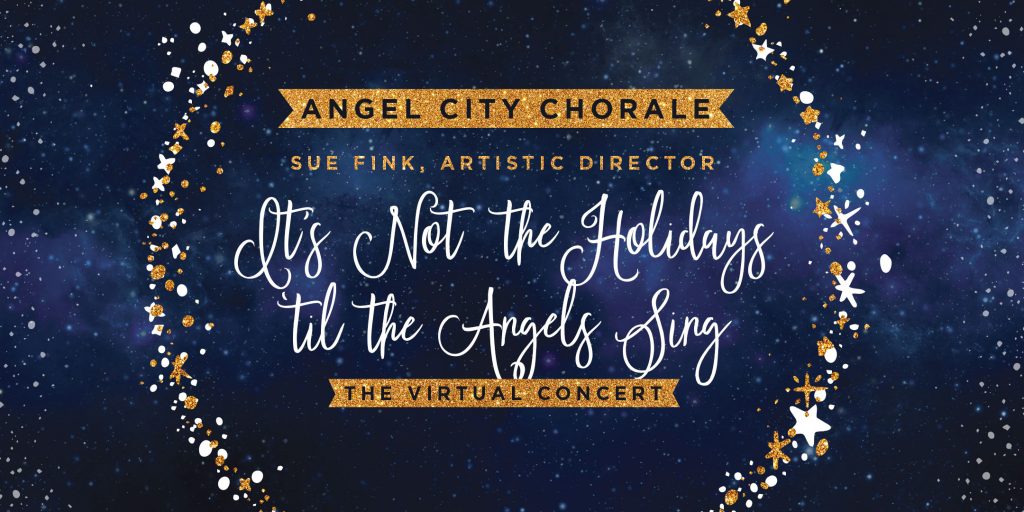 Angel City Chorale invites you to haul out the holly, dust off the dreidel and CELEBRATE the holidays with us at It's Not the Holidays 'til the Angels Sing virtual concert. This unique hour-long streamed event features Artistic Director Sue Fink leading the chorale in a selection of beautiful holiday songs both old and new, and a fun and joyous audience sing-along to really get you in the spirit. Many thanks to our Animation Artist, Regine Verougstraete, for her contribution to "The World for Christmas" on our very special virtual Holiday Concert.
In deep gratitude to ACC fans around the globe, the concert is free of charge as a gift to all.
Our free concert was available through Jan. 7, 2020.
Enjoy a full library of concert videos on our channel.

Pre-Concert: Backstage with Sue, 5:15pm
Post-Concert: Sue's After Party, immediately following the concert
Attendance at both pre- and post-concert events is now closed.
If you are on the list, you should receive an email invite with a Zoom link on Friday afternoon.

Saturday, December 12 at 5:15pm PST, immediately preceding the concert. This live event is open to our loyal donors of $50 or more. Join Artistic Director, Sue Fink and special guests as we anticipate this exciting evening of music. Hear the inside scoop on how the concert came together with a special behind-the-scenes video. Help support Angel City Chorale's mission to bring hope to the world.

Saturday, December 12, immediately following the concert. This exclusive, live Zoom event is for our top 30 donors of $300 or more. You'll get to ask questions and interact with Sue, our soloists and producers as we continue the celebration. See how this magical concert came together through the making of our virtual concert video along with our bloopers. We are so grateful for your support, as we bring hope and joy to the world.
This event is now closed.
Invitations for the pre- and post-concert events will be sent separately on Friday, December 11.
Note: The ticket widget has several required fields. Once they are completed, the Place Order button activates and turns orange. If it is still disabled, please double-check that all required fields have been completed.