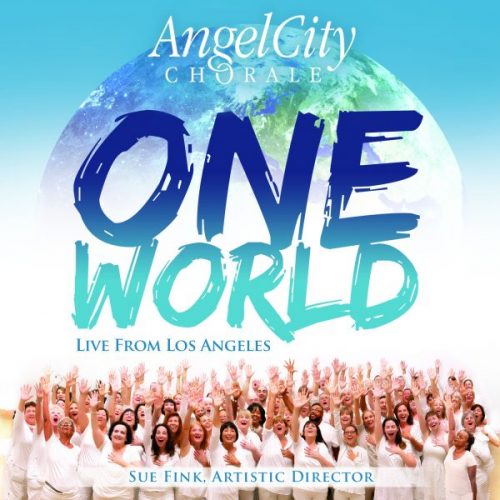 This past summer, Angel City Chorale's star turn on America's Got Talent brought our music to a nationwide audience. But for many people across the country and around the world, traveling to LA to experience one of our dynamic concerts isn't a possibility. Now our fans (new and old, and from far and wide) can experience the feeling of hearing us live when they listen to our new album, One World: Live from Los Angeles.
The songs on One World are as diverse as ACC's membership: they range from our viral cover of "Africa" to an excerpt of French composer Maurice Durufle's beloved Requiem for choir and organ. The songs also span the globe. "Shivna," originally composed for Riverdance, has roots in Irish traditional music, while "Samba Do Avião," is, of course, by Brazilian bossa nova master Antônio Carlos Jobim. The songs were selected from ACC concerts that took place in Los Angeles over the past few years.
Mary Kate Jiménez-Wall sings in ACC's Soprano section, and, along with choir members Kat Green, Mitch Weiss, and Director Sue Fink, played an integral role in putting the new album together. She says that she worked with Kat, Mitch and Sue to choose songs that showcase ACC's wide stylistic range and the choir's irrepressible capacity to communicate joy. She says: "I hope listeners feel the absolute joy that we try to convey in our performances, and that it brightens their day no matter what type of song they're in the mood for."
While ACC's hits – "Africa" and "Baba Yetu"- are highlights of the album, Mary Kate also recommends that listeners tune in for a few less well-known numbers. She describes that "Exsultate Justi" as a "rousing John Williams number that showcases the choir's exuberance," and suggests that videogame fans and non-gamers alike will love "Liberi Fatali," "a gripping overture well known by fans of Final Fantasy." Mary Kate is also a gifted composer and one of her compositions for ACC, "Cempasúchil," is also featured on the record. "I am beyond honored to be included on such a great release with many of my favorite composers," she says. "Above all, to have my piece performed by talented people that I know and love is truly the most wonderful feeling and the most that I could ever ask as a composer, especially for my choral recording debut!"
We hope you'll love listening to One World as much as we enjoyed performing and recording it!
-Alexandra Apolloni