ANGEL CITY CHORALE is thrilled to be back on a live stage for the first time in two years with our Light Up the World holiday concert. Please join the America's Got Talent semi-finalists and Los Angeles's premier community chorale for this festive holiday event in our beautiful new home: the famed Royce Hall on the UCLA campus.
Date/Time/Location: 
Saturday December 4th at 7pm at Royce Hall, UCLA and Livestream
Sunday December 5th at 3pm Matinee at Royce Hall, UCLA
To see the concert program, click here..
For Royce Hall Covid-19 Health and Safety Information below, click here.
Ticket Buying Details
Royce Hall at UCLA has implemented social distancing by capping the total number of seats that can be sold.
Once you add any seats to your cart, a 10-minute timer starts. You must complete the purchase before the timer runs out.
If you want to order seats for both shows, you'll find a Related Events scroller on the Checkout screen and can add more tickets to your transaction -- just be mindful of the countdown timer. Pre-paid parking is a separate transaction.
A UCLA ticketing account is required to complete the transaction. You can create a new one at checkout, but note that if you've ever attended a UCLA event, you might already have an account. If you're concerned about time, once you're in the UCLA ticketing screens, the My Account link will let you sign in or use Forgot Password to get signed in before you add tickets to your cart.
Click the graphic below to load a larger version.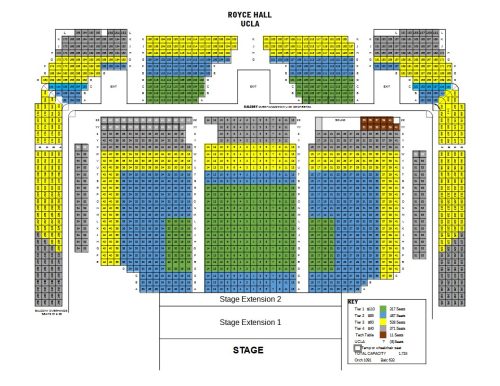 Worldwide Livestream
For those not able to attend in person, for the first time ever, Angel City Chorale will be livestreaming the concert on Saturday, December 4th. RSVP below and enjoy the concert in real time from anywhere in the world. When you RSVP, you'll get reminders before the event goes live.
Royce Hall Health and Safety Information: 
All ticket holders must provide one of the following with a photo ID (name on ID and documentation below must match)
- Proof of full vaccination
OR
- A negative COVID-19 test lab result taken within 72 hours of the event. (Note: A lab test provides the guest's name, date the test was taken, date the result was received, and a negative result. An "at home" test does not reliably provide this information and therefore is not valid.)
Children who are unvaccinated must present a COVID-19 test and provide photo id as well (such as a school id).
Masks required -- regardless of vaccination status, use of a mask is required at all times, except when actively eating or drinking in the designated eating and drinking areas. Concession sales are not available at this time.
If you are experiencing any symptoms of COVID-19, do not come to campus.
If you have any questions please call Royce Hall at 310-267-4465 or email info@roycehall.org.