ANGEL CITY CHORALE returns to historic Royce Hall on the UCLA campus for our The More The Merrier holiday concert. Please join the America's Got Talent semi-finalists and Los Angeles's premiere community choir for this festive event on Saturday, December 3rd at 7pm and Sunday, December 4th at 3pm.
Accompanied by the ACC orchestra, Artistic Director Sue Fink leads the 150-voice ensemble in a selection of beautiful and celebratory numbers that are sure to bring joy to the heart of even the most diehard Grinch. Look for perennial favorites wrapped in shiny new arrangements, like the beloved Carol of the Bells, the English carol Wassail, and a stunning Native Peoples-inspired arrangement of The Huron Carol, as well as gospel renditions of Go Tell It on the Mountain and Hark! The Herald Angels Sing, and more. Chanukah celebrators will love the traditional Mi Y'malel and the hilarious and rousing Chanukah in Santa Monica. We promise to deliver more songs, more togetherness, more fun, more hope, and more joy with this fun-filled concert — The More The Merrier! And of course as always, we are thrilled to include our very own ANGEL CITY YOUTH CHORALE in the festivities.
We sincerely hope that you will be able to join us in person for one of the most beloved annual holiday traditions in Los Angeles. But for those of you who are unable to attend live, we will be livestreaming the concert on Sunday, December 4th.
Sat., Dec. 3, 7pm  Concert
Sun., Dec. 4, 3pm  Matinee Concert + Livestream
Ticket Buying Details
Once you add any seats to your cart, a 10-minute timer starts. You must complete the purchase before the timer runs out.
If you want to order seats for both shows, you'll find a Related Events scroller on the Checkout screen and can add more tickets to your transaction -- just be mindful of the countdown timer. Pre-paid parking is a separate transaction.
A UCLA ticketing account is required to complete the transaction. You can create a new one at checkout, but note that if you've ever attended a UCLA event, you might already have an account. If you're concerned about time, once you're in the UCLA ticketing screens, the My Account link will let you sign in or use Forgot Password to get signed in before you add tickets to your cart.
Click the graphic below to load a larger version.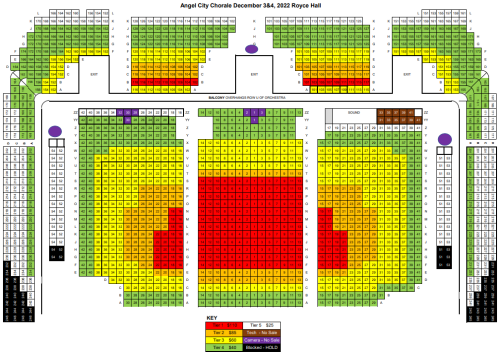 Worldwide Livestream
For those not able to attend in person, Angel City Chorale will be livestreaming the concert on Sunday, December 4th. RSVP below and enjoy the concert in real time from anywhere in the world. When you RSVP, you'll get reminders before the event goes live.
Masks Strongly Recommended.
Royce Hall strongly recommends that all guests be fully vaccinated or receive a negative COVID-19 test prior to attending any event.
If you are experiencing any symptoms of COVID-19, please do not come to campus. If you have any questions, please call (310) 267-4465 or email info@roycehall.org.
Tickets Pre-Sale
If you've been given a code, click the button below and enter that code.

We did it! The holidays have officially begun. Thanks to all of you who made it to our live performances last weekend, or who joined us for the livestream. We've cleaned up a few audio glitches on the livestream video and re-uploaded it to our YouTube channel. It's now the next-best thing to being there in person. The entire concert is available to watch until January 7th. Check it out, it's darn festive, and it's FREE! (Although donations are certainly appreciated.)