Amy Foundation Kids Fund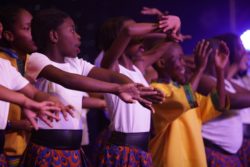 We are proud to reunite with the youth choir of the Amy Foundation from Cape Town, South Africa. In 2011, Angel City Chorale performed in Cape Town with the Amy Youth Choir in benefit concerts for the Foundation. The Amy Foundation (formerly the Amy Biehl Foundation) was founded on the idea that people of disparate backgrounds must learn to work together to move forward. It serves children from the vulnerable townships of Cape Town through support services which feature academic support, work force development, and learning through the arts.
Angel City Chorale has a perfect opportunity to collaborate with the Amy Foundation to advance our common mission of community building through music, but we need your help.
Your donation will help to bring the Youth Choir to Los Angeles in May for a week of cultural exploration, broadening horizons, and celebration through music at our spring concert. Join us in making this a truly memorable 25th Anniversary Event.